What do you do for your child when they feel bad and have a stuffy nose and low fever?  My oldest 3 years old got a stuffy runny nose three days ago.  We thought it was allergies since we did a lot of cleaning and raised a ton of dust around the apartment.  Well then a fever came with it not high but enough to make him uncomfortable.  Last night I got a sore throat and I am congested a little but mainly my throat hurts.  Then when I got little E up he was all congested and runny nose too and slight fever.  Not fun with all of us feeling bad.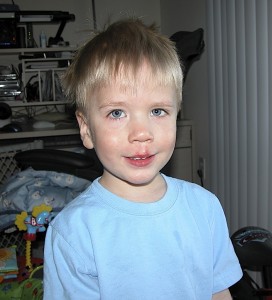 Do you feed your child something special?  Do you let the fever work it's course keeping it under control or do you immediately give them something to bring the fever down?
With G my 3 year I wait until a nap time or bedtime to give him Tylenol unless he is really uncomfortable or the fever is really high.  The runny nose there is not much I can do about that.  I can't tell if his throat hurts, hard to tell with his answers.  Thankfully we have a 9 month check up for E today so he will get checked out good.  Hoping this sickness blows through quick.  Thankful that G seems to be doing a lot better this morning.
So help a fellow mommy out tell me your tricks for comforting your sick child.  I know extra love and attention helps a lot too, what else do you do to help?
No related posts.