Did you grow up playing with Play-Doh or did you have a mom that didn't want to deal with the mess?  I loved playing with Play-Doh growing up but I wasn't any good at making anything.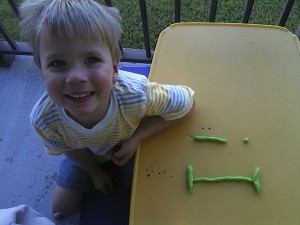 Gavin kept bugging me to play with his.  I resisted because it is messy and our apartment is carpet.  It is finally getting cooler in the morning here in FL so we got his little table cleaned off and we played outside with it for a little bit while little brother slept.  I like doing it outside because we don't have to worry about Play-Doh getting in the carpet!
I was trying to be creative, which I'm not and I finally came up with the idea to make some letters.  We are trying to recognize letters with G and thought this would be a fun way to do it.  We also made little balls and then we counted them and smashed them.  The smashing is always fun stuff!!
Gavin had a great time and it didn't take a lot of the Play-Doh to enjoy it and I didn't have to worry about a mess. Another perk of buying the Play-Doh on sale is it is a good price and worth not having to make my own.
Yesterday I was at Target and saw Play-Doh on sale.  Four of the big containers are usually 2.00 and they were on sale for 1.00!!  I also noticed that they had the same big containers selling for a dollar a piece, so the containers of four for a buck are a deal right now.
Do you play with Play-Doh still with your kids?  What great creations have you made lately?