I recently went to Hobby Lobby and found some really great things to do for crafts with the boys.  I love to do little inexpensive projects especially around Christmas.  We found these inexpensive ornaments that were plain wood and we painted them.  With the 50% off I am pretty sure they were under a dollar a piece.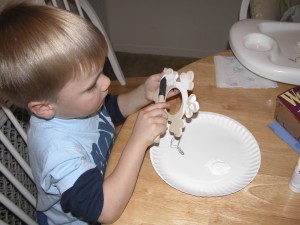 First I let G paint as much as he could.  Then I finished painting the other side and gave it a second coat of paint.  I took the center plastic out where you put the picture so we didn't mess that up.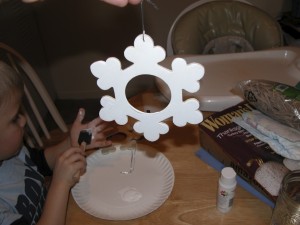 G really enjoyed painting them and mommy enjoyed finishing them.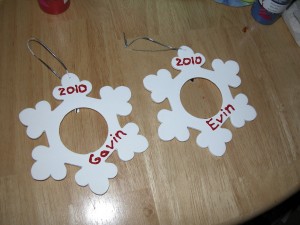 After letting the paint dry I used the puff paint to write their name and the year on it.  You can see that there is a circle and that is where their picture goes.  Now I just need to find two cute ones.   Think I will take on in their Christmas outfits and stick it in there.  I also think I will be selfish too and keep these for our tree!  They turned out cute and I can't wait to see it with a picture.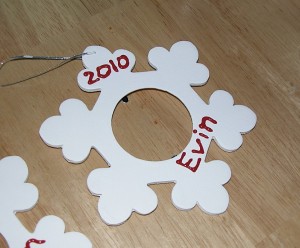 Growing up on Thanksgiving day while the guys watched football the kids needed entertaining.  My aunts and grandma always had a project for us to do.  We got the glitter out and paint and who knows what else and made Christmas ornaments every Thanksgiving afternoon.  Do you have a tradition on Thanksgiving?  Do you plan on making any new homemade ornaments this year?  Check out Michael's or Hobby Lobby for some great ones that are inexpensive!
Related posts: