We have a winner of the book "Remnants" donated this week by Marisagary.com.  Our winner is Courtney McCarty!  Congratulations Courtney we hope you enjoy your book.  If you didn't win and would still like a copy click here
to check it out through Amazon.com.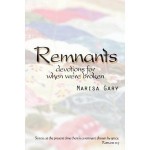 Thanks everyone for participating.  Another giveaway to start in a few days!
Related posts: