I LOVE this idea for keeping puzzles together.  My boys are always getting the entire stack out of them and making a mess when they only want to play with one.  I found this idea from Family Fun magazine.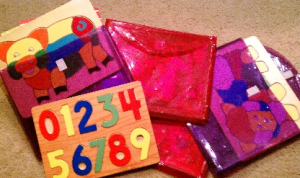 Here is their tip – For board puzzles, I have a great tip for avoiding the whole, "I just sorted and made the puzzles and someone bumped the stack of puzzles and they're all a mess again." Buy transparent document covers — the kind that are like a big envelope with a velcro closure. I get them at the drug store or any office supply store for about a buck. They come in fun see-through colors, so the kids can see what puzzle it is, but the pieces stay in place and even if someone picks it up, nothing shakes out. Another tip is to label the back of each puzzle piece with a code and put the same code on the back of the puzzle board. No more wondering which piece goes where.
I think I am going to be looking for some cheap clear envelopes and sorting my puzzles.