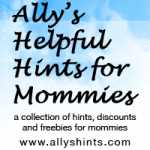 If you want to make sure to see all of the posts here at Ally's Helpful Hints For Mommies on Facebook here is what you need to do.  Note: This will need to be done on your computer.
- Go to the left hand side where it says "lists"  and hover your mouse over it, click on the "more" that pops up to the left of it.
- Click on +create a list on the top right hand corner of the page.
- Name your list (whatever you want to name it so you can remember)
- Click on the upper right "manage list"
- there is a drop down box in the upper left, click on that and choose "pages".  Click on "Ally's Helpful Hints For Mommies" and it is added to your list.
- Then when you want to look at my updates/info on Facebook just click on that "list" on the left.
- You can do this with friends, family, other mommies, school friends and they are easy to update and if you don't like it delete as well.  Much easier way to keep up with people and pages that you like.
If you have any more questions about this let me know and I will try to help.  These lists are also helpful when you want to send an update to just those people on the "list".  Before you send your update on your personal page click "custom" and click the "list" you want to send it to and it will only be seen and sent to that list!
Have fun creating your lists mommies!
Related posts: