Are you a member of Amazon Mom yet?  If your not you should be.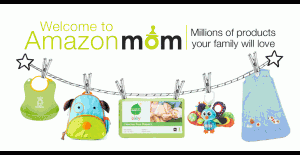 Here is a little bit about Amazon mom
With Subscribe and Save deliveries you can save  30% on diapers and wipes  15% on Groceries and 15% off household supplies.
If you spend$25.00 in the Baby store they will extend your Free shipping benefits.  Once you sign up you qualify for free three months of free two-day shipping but every month you spend $25.00 that offer is extended another month up to a year.
The great thing it that is is absolutely FREE to sign up for this to get these great savings on diaper and wipes delivered FREE to your door and you don't have to go get them.
Here is an example of buying wipes with subscribe and save.
Pampers ThickCare wipes normally run $13.99.  If you buy them using subscribe and save they are $9.79 and FREE shipping! What a deal!!  Subscribe and save can be cancelled once your order is shipped and they will email you before the next order is shipped to remind you.
With the FREE shipping on all Amazon prime items this is a great way to save on other items too for Christmas. Plus you have the convenience of shopping from home!