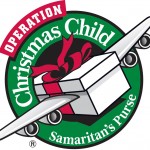 Every year our church asks everyone to put a shoe box together for Operation Christmas Child.  If you aren't familiar with it OCC sends shoe boxes full of school supplies and toys to other kids in other countries who don't have any thing.  I liked that our churches children's program explained it to the kids and included all the information we needed in a box that was all ready to go for us.  My four year old was ready to give items of his own away.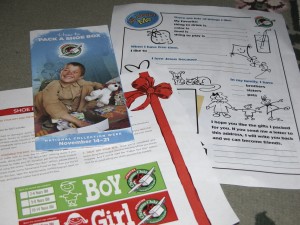 I love that you can donate your $7.00 online easily and print out the form to put on your box.  Then this gives you the opportunity to follow your box and know where it ends up.  Such a great learning experience for your kids to tell them about where the box is going.  I can't wait to see where our box ends up.
Here is what we put in our box.
Coloring book, Book, combs, balls, calculator, cars, markers, crayons, flashlight & extra batteries, toothpaste, toothbrush (2), soap (bagged), gum, squishy ball, suckers (double bagged) wash cloth, t-shirt ($1.00 at dollar store), not pictured but I am adding a couple small play doh's as well.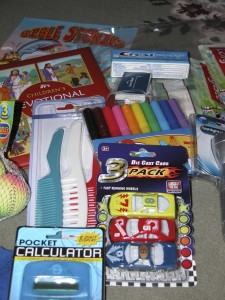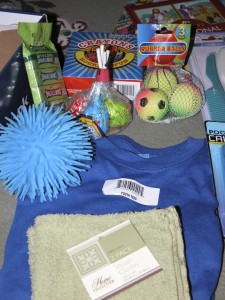 A lot of people think it costs a lot to fill a box but I got 90% of the items for our box at the dollar store and spent under $20.00.  I can forgo a few things to help out another child.  I try to give a big variety of things and make sure there are a couple of toys along with all the practical items.
All the items in our box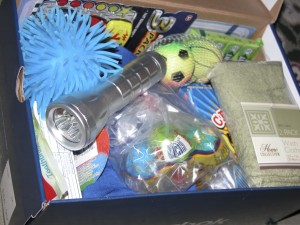 If you want to put a box together and your not sure where to get the information on how to do one or where you can drop it off go to their website HERE and you can get all the information you need.
Have you participated by donating a box before? Have you gotten your children involved?
Related posts: