When to cut out naps can be a hard thing for some.  I know it is for me.  I SO want both of my boys to nap and go to sleep and give this mommie a break.  Since my oldest turned 4 though it has become more of a struggle just to get him to stay in his room. I have tried threatening, bribery, being calm, getting angry and setting the timer! Some days it would work and a lot of days it wouldn't.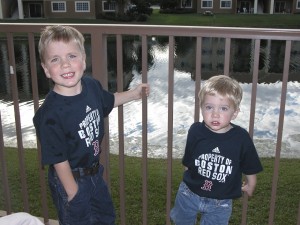 The last couple of days I have given up.  I figured out that when he doesn't sleep he does have more of an attitude in the afternoon but he goes to sleep a lot better at night.  He even starts saying he is tired around 6:00 pm now.
I confess I was one of the mommies that even though my boys share a room they didn't for nap time.  I put my two year old in my room in a pack N play just so they would sleep.  Since the change he can now sleep in his own bed for naps and still loves his nap time. I'm thankful I can get one to take a nap.
What do I do with my four year old now?  I have him lay on the couch and it is movie time/quiet time for him.  He does pretty well about letting me get things done and he stays on the couch pretty good too.  He just asks me over and over again to please cover him back up!
So for now we are on a trial basis of no naps for him and my 2 year old definitely still has them and loves them.  We'll see how it goes and if after he adjusts to no nap if his attitude changes.  Right now he gets upset pretty quickly but he did that a lot before too.
When did you cut out naps for your little ones?  What made you stop giving them a nap?
Related posts: