I am excited to review the Victoria Sleep Tight Reward Chart and also give one away to one lucky fan!
We started the chart in the middle of the week. We chose not to hang it on the wall but it does include some sticky pads to mount it on the wall.  My four year old loved getting the stickers and did great with it.
Here is a picture of the 11 x 17″ chart.  It is not to big and not too small.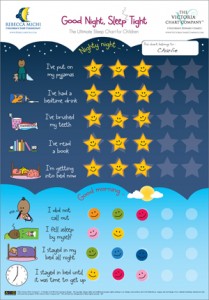 The items to earn stickers are exactly what we do every night so it fit well into our routine.  Here are the items that are listed on the chart.
1. "I've put on my pajamas"  Perfect for the 3 and 4 year old learning to put on clothes by themselves without help from mommy.
2. "I've had a bedtime drink"  We always have a water cup for each child and they can drink it throughout the night if they wish.  This also reminds me to get the cups ready!
3. "I've brushed my teeth" First thing we do in our bedtime routine.
4. "I've read a book" We always read a Bible story or book before bed, unless we are getting to bed late.
5. "I'm getting into bed now"
We chose to give ALL the stickers the next morning.  This helped me out since I have two boys and only the oldest was using the chart.  There was no jealousy between the brothers and he was VERY excited to get his stickers in the morning.  If you are using it for one child you may benefit to give the stickers as you earn them and hang it in their room.  For us the next morning worked best!
The other items on the bottom are to reward them after they get up.  These items are –
1. "I did not call out" – Great one to have on their for the child that hollers for cover, more drink, more hugs.
2. "I fell asleep by myself" – I am thankful I don't have trouble with this one.  We sing songs and they go right to sleep.
3. "I stayed in my bed all night" – I give grace on this one when they feel bad and need some extra love in the middle of the night.  Usually I can just walk them back to their bed and they go right back to sleep.
4. "I stayed in bed until it was time to get up" – We don't have a "set" time anymore when to get up so as long as they are quiet and get me up without waking up daddy I am good with it!
The chart comes with 48 reusuable gold stars and 130 reusuable smiley face stickers, dry erase marker to mark on it and sticky pads to stick to the wall.  It also comes with an information sheet showing tips and guidelines.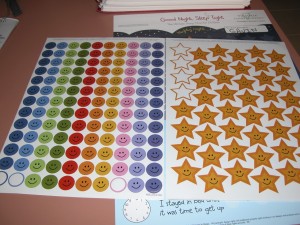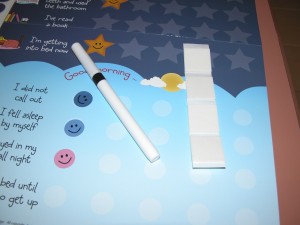 My four year old LOVED getting his stickers each morning and going over what he did good and what needs improvement.  He loved choosing which color smiley face to use and putting them on the chart. It also came in handy when he was talking when lights out or getting out of bed a couple of times.  I told him that if he did it again he would lose his sticker.  This got him to be quiet and to stay in bed 🙂  worked like a charm.  He knew what he had to do to get the stickers and worked hard at being able to fill them all in.  Each morning he would ask to put his stickers on the chart.
Here is our chart after a week!  the stickers come off easily and can be reused.  So you can start another week when you get done.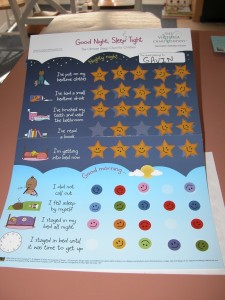 The GREAT news is I get to give one of these away to a lucky mommie!!  BUT if you don't want to wait to see if you won or you didn't win (because you are seeing this after the giveaway) click HERE and you can purchase one for $14.99.
One person will win one Sleep Tight Reward Chart.
To enter fill in the form below with your complete name and accurate email address.  You will be notified by email that you have won so it is important that you have the correct email address listed.  One entry per person.  Winner will have 48 hours to reply to email to claim their prize.  If winner does not respond within 48 hours a new winner will be chosen.  Winner will be chosen by random.org.
Fill in the form below to enter! Make sure to tell your mommy friends about it.
No more submissions accepted at this time.
Giveaway starts NOW 5/9/12 and ends Wednesday 5/16/12 at midnight. GIVEAWAY HAS NOW ENDED!
THE WINNER IS STEPHANIE SLONE.  Stephanie has 48 hours to contact me back to claim her prize. If no response a new winner will be drawn.