We were at a Summer fun activity at the Ormond Beach Library a little over a month ago and we were able to hear a Florida folk singer Mrs. Kate Carpenter.  My oldest Gavin loved it and went home singing the songs.  He loved that he was able to get involved in one of the songs holding a sign and sat right in the front the entire time taking it all in.
After he went around for a couple of weeks singing parts of the song I knew we needed to get one of the CD's.  Mrs. Kate was gracious enough to let me review her newest CD "Nana Tunes" and let me give one away as well!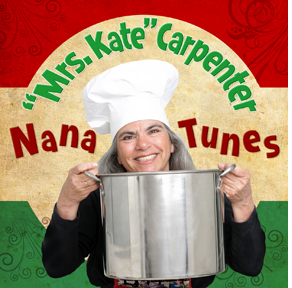 The songs on "Nana Tunes" are very catchy and fun for kids to listen too.  My song Gavin's favorite song is "Painted Bunting" I think.  I catch him singing the chorus to this song all the time.  "Red and yellow, green and blue painted bunting, I love you! Blue and yellow, red and green the prettiest bird in the Florida Spring"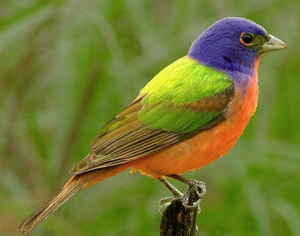 Who is Mrs. Kate?  This is what Mrs. Kate says about herself on her website.  Mrs. Kate" Carpenter hails from the tiny town of Callahan, Florida, and travels throughout the southeast making families smile with her homespun folk music.  Accompanying herself on the guitar, this prolific songwriter has recorded 9 original CD's and a children's music video in the past 17 years.  Passport to Power, was released in January, 2010 and her very newest CD is Nana Tunes. She performs over 150 shows a year, delighting audiences of all ages.  Mrs. Kate's specialty is electrifying elementary school children.  Using catchy tunes, puppetry, unusual instruments, and riveting storytelling, her interaction with the audience is creative and unforgettable.  She has inspired students in over 280 schools with her "Motivate with Mrs. Kate" show.  Summers find her touring the public library circuit, promoting reading with her "Crack a Book" song and the unforgettable "Hug-a-Bug-a-Boo. You can read more about Mrs. Kate on her website.  MrsKate.com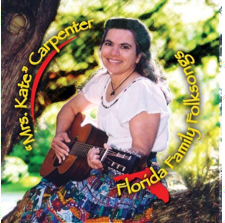 We also purchased the CD Florida Family Folksongs and my boys are in love with several songs on it as well.  "Livin in the Okefenokee", "Anhinga", "Coon in the Can" and more!  The songs are all about Florida wildlife and very educational for small kids.  We have looked up an Anhinga online and talked about the bird and what it does as well as a Scrub Jay Coons and also pictures about eh Okefenokee swamp.  All fun and catchy songs that have my boys singing them over and over!
Where can you buy Mrs. Kate's CD's?  You can get them them through her website through her or you can also download them through itunes, verizon, rhapsody, cd baby and other major sites.  You can contact her with questions through her website as well MrsKate.com and she has a Facebook page Mrs. Kate Carpenter.  You can also listen to portions of the songs on her website as well.
AND I get to give one CD to one lucky winner.  I am giving away a signed copy of "Nana Tunes"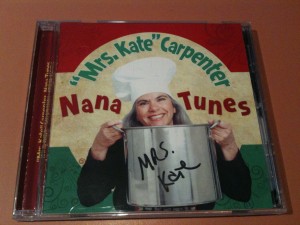 One winner will receive one copy of Nana Tunes.  One entry per person. U.S. only.  Please enter using full name and correct email address.  Winner will be notified by email that they have won and have 48 hours to respond to claim their prize.  A new winner will be chosen if no response. When you enter you should receive an email notification that you entered the giveaway.  This is something new with this giveaway so hopefully it works well for everyone! Email is used to notify of entering and to notify if you won giveaway. Good luck!!
No more submissions accepted at this time.
Giveaway starts NOW and ends Friday night August 3rd 2012 at midnight.
UPDATE: Congratulations to Mary Payne the winner of the Nana Tunes CD.  She has been emailed and has 48 hours to respond or a new winner will be chosen!