This last week I got a couple of good deals to share with you.
This first one I got at Publix and you could possibly still get this deal if the coupons are still available and have not expired.
I got 4 glade Plug In refills for FREE – There is a BOGO coupon in the 7/15 SS (smartsource) and Target.com had a printable coupon for BOGO so at my Publix I can use both and get them for free!
I bought 3 Bayer aspirins using 3 $3.00 off coupons and they were about 2.64 a piece earning me money

 coupon in the 6/24 SS insert
Also got two free packages of Paper Mate pens – on sale at Publix for 50 cents each and Target.com has printable coupon for $1.00 off one package again giving me overage.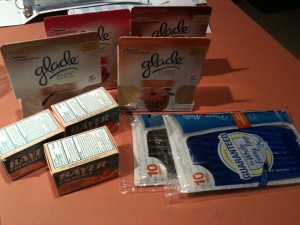 I got these items along with my groceries so the overage of a couple of dollars helped pay for items that I didn't have coupons for!
Today I went to CVS and got  6 jars ragu, 6 dawn dish soaps, 2 milk, 2 oral B toothbrushes, 3 pads, 2 Aussie spray, 1 paper bandage tape, 1 Gillette razor. I received two different $1.00 off coupons for things I was going to buy that day and used them as well.  I also had $10.00 ECB's from my purchase last week.  My Total was $33.00 and I received $16.00 in ECBs, so after subtracting them I paid $17.17 and saved $46.99.  These items are available all this week!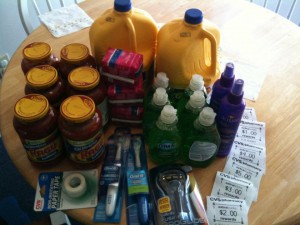 I received ECB's from almost everything that I purchased and had coupons for everything but the Milk and the bandage tape.  I loved that I could save on Milk which gave me $2.00 in ECB's back one for each gallon.  I treat my ECB's like cash and put them right in wallet for the next trip.
What good deals have YOU found this week.
Related posts: