We end up having so many toys and my boys don't play with a lot of them.  We have generous grandparents who give them lots of things they want.  Instead of holding onto everything and ending up with so many toys you can't move in the play room we purge several times a year.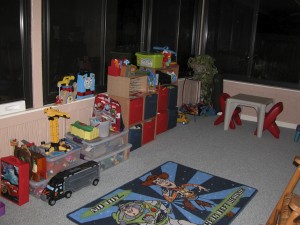 After a birthday I take a look at what they play with and don't play with and get rid of some of the items they have outgrown and don't touch anymore. Some toys we get a bunch of and I can't see holding on to 100 little cars when they don't play with them all.  We pass them on to other little boys that will enjoy them or sell some things in FB groups in our area.   We do the same thing after Christmas.  Evaluate what they got and what they don't use and try to get rid of the same amount of toys they received.
This really helps us keep out toys from overtaking us.  I admit we still have WAY to many but there are some things it is just hard to get rid of.
How often do you purge your toys and get rid of things?  Do you have a special way you do it? Would love to hear what works for you!
Related posts: