We survived our first week of homeschool with my new Kindergartener.  For our first week I think we all did great!  After breakfast around 8:00 or a little bit after we sit down and get it done.  Since it is our first year and he is just a Kindergartener we can get it done in 30-45 minutes depending on how fast he works to get done.
The great part is that we are not bound to that schedule.  The one morning we had other things in the morning to take care of so after lunch we were able to sit down and do it and not miss out on our other plans.  That is one of the beauty's of homeschool.  You can change your schedule and no one cares.
Another wonderful thing is that we are not stuck using whatever the school system uses.  I am using mainly Abeka books but noticed right away that one of them was not working well for him and he didn't like it.  Fortunately I had purchased another book that covered the same thing in a little different way and he is liking that much better already.  I have a feeling there will be several changes over the years as we go along and we see what works best for us.
How about you? How did your first few days go?  Have you started yet?
Here is our first day photo!  I plan to take another one at the end of the year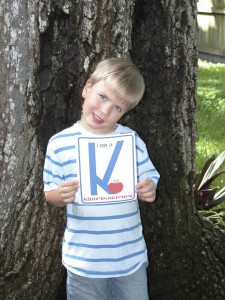 Can't leave out my little preschooler too!  He enjoys coloring when big brother does his work.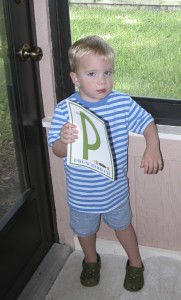 Praying you ALL have a great school year this year!!!
Related posts: