It is something that my husband and I have prayed for ever since our little boy was born.  That he would someday decide to ask Jesus to be his Lord and Savior.
Last night 8/24/12 around 7:30 p.m. it all happened.  We were talking about a friends funeral and why we have them and where people go after they die.  I explained that if they believe in Jesus and that He died for them on the cross to save them than they will be in Heaven.  We went on to talk about new bodies that we would have and mentioned several family members that would have new parts of their body and be healed.  I knew his little brain was working and comprehending it all. Children understand far more than we give them credit for!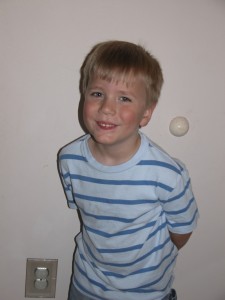 Daddy came in the room to chat a minute too before we prayed and we explained that when we were smaller we prayed and asked Jesus to come into our lives too.  We told him that whenever he was ready to make that decision that we would love to pray with him.  He thought about it and said he wanted to wait.  We started our bed time prayers and he said that he wanted to pray to Jesus.  It was a sweet and simple little prayer and that is all he needed to do!
I am thankful that my Gavin Shane loves Jesus and wants Him to be his Lord and Savior.  Thankful that we will all be in Heaven together one day.
As I was leaving the room he said "mommy I want to play the drums in heaven and make thunder"  I absolutely love this boy!

Acts 16:31 Believe on the Lord Jesus Christ and thou shalt be saved.
Have you done this? What's holding you back from making the most important decision in your life?
Related posts: