I got an email about a month ago now from my new friend I met while talking at the hospital one night.  (see story here) We have been able to stay in touch and she told me about this new young author Brooke Barenfanger.  Here is what she said about Brooke.
"I know this amazing young lady her name is Brooke whom I have watched grow into this awesome young lady . Who I know Loves the Lord. Ever since I've known her as a child she has always read books always. Well she has written her first novel. She isn't even 18 yrs. old yet. She has written a book that is called "The Blacksmith King
". It will touch so many young adults and inspire them as well as help them fall in love with the Lord." Cheryl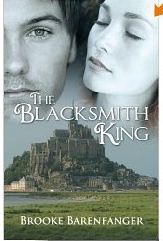 I personally bought the Kindle addition off of Amazon.com
 (it is only available through Amazon.com
 or Barnes & Noble) and read it.  I have always loved a good Inspirational romance novel and this was a perfect read for me.  It was a great story line and it kept my interest until the very end.  You will love the main characters Lila and Asher as they follow the Lord's Will for their lives and how they love the Lord and the Lord loves them back.  For Brooke's first novel I thought it was really great.  I can't wait to see what she has next and would love to support her and her work by buying a copy.
Book Description:  At about  eight years old,  Lila Starwok lost her parents. Ten years later, she runs a boarding house for the people who raised her, her grandparents. There are several men who would like to court her, but Lila feels nothing but friendship for them. One day, a handsome, mysterious man steps into her life. He says his name is Asher Frost. He has secrets behind his eyes and a wariness to his face that never seems to leave. Slowly, Lila discovers his secrets. One day, Asher disappears, leaving only a note and memories that seem more like dreams. The only thing that separates dreams from reality is their love. But when catastrophe strikes, even that seems to be in danger of disappearing. In the end, Asher has to make his choice between selfishness and selflessness. Lila has to trust in God's perfect will more than ever before.
I hope that you will consider supporting this young new writer and fellow sister in Christ buy purchasing a copy of her first book.  If you don't read consider purchasing it for a friend who does!
Book is sold at Barnes and Noble and Amazon.com

.