You know that I love doing hand print and foot print things with my kids.  We do pot holders for Christmas for the grandparents every year.  My mom sends them to me some times so I don't forget to do them for her.  She loves to hang the new ones up above her sink and then she uses the old ones.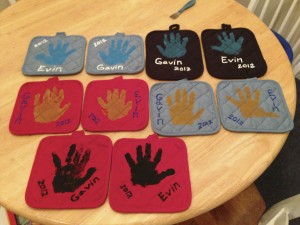 Some questions people have about them.
– Do they wash well?
yes, I have washed things that I use with acrylic paint and if you allow it to dry properly it shouldn't come off when washed.  I personally haven't washed my pot holders but all the other items such as dish towels and t-shirts it all stays on them.
– what kind of paint do you use?
I use the craft acrylic paint in the little bottles.  You can find every color you could ever want and they are about a buck at the craft store or walmart.  It washes off hands easily as long as you don't allow it to stay on for very long.  So as soon as you make the print and maybe two or three quick with one hand or foot wash it off with soap and water or wipe it with a wipe.
– where do you find your pot holders & dish towels?
I have found a bunch of cute dish towels at Target dollar spot as well as Dollar Tree.  Walmart and Target are places you can find colored items but are more expensive.  I recently found potholders and dish towels at Dollar Tree that work great!  Just keep an eye out for a good deal and snatch them up when you can.
For our hand print potholders you need
pot holder of choice, acrylic paint, slick puff paint to write name, brush and hand to make print
I have found that the best way to spread the paint evenly is to paint the hand itself instead of pressing the hand in paint.  There is also less mess this way and you use a lot less paint as well.  I use a foam brush and it works well.  It just tickles the hand a little bit.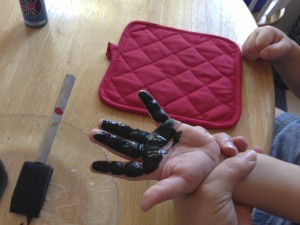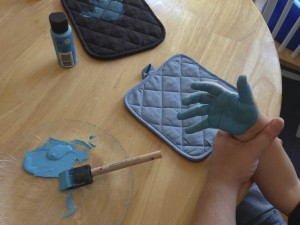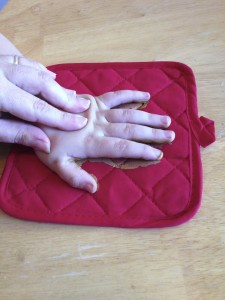 One hand is covered well press firmly down on the pot holder and lift straight up.  Let the paint dry a little (it dries pretty quick) and then write something on it with slick paint.  I always put their names and the date.  make sure to dry it flat long enough so it doesn't run or stick to anything else that you lay on top of it.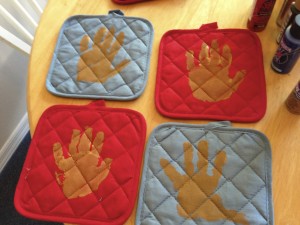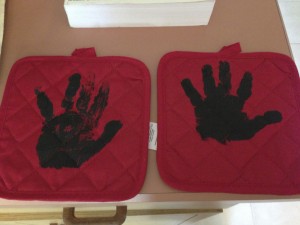 Here is our finished products!  These are wonderful, personal and inexpensive gifts for any family member.  You are sure to get a smile from them.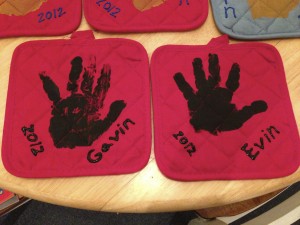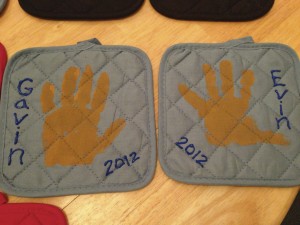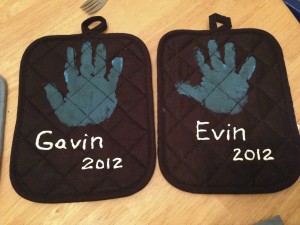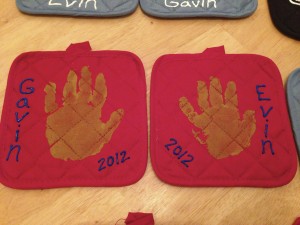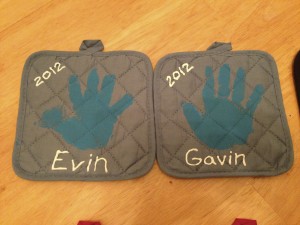 What is your favorite color?  Are you going to make one for someone this year?