If you have never tried out The Victoria Chart Company and all their great charts you need to!  We have used a few of them now and all have been very helpful.  They let me review The My Big Start Chart with my little guy and I also get to give one away!  I love sharing good stuff with you.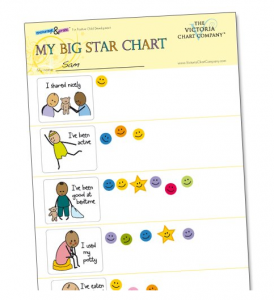 One thing that I first loved about this chart was that there were many blank stickers that you can write in whatever "item/behavior" you want to work on or reinforce.  also the chart comes completely blank so you put the stickers you want on it and in the order you want.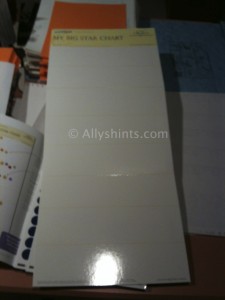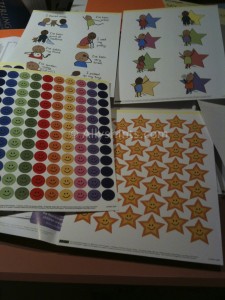 The main thing that I wanted to work on with my little guy was using the potty.  I used the smiley faces when he went pee pee and the starts when he went poopie in the potty.  We also had sharing, picking up toys, good at bedtime.  I love that with this little fun chart (that they can put their own stickers on) can help them so much in wanting to do good behavior.  If you don't need help reinforcing a behavior anymore than you can change a sticker and put another one really easy and change it up a little bit to make it exciting.  If you don't need it for a little bit than put it away and than get it back out when you need to reinforce a good behavior again.  So simple, nice size and the stickers make if fun for the kids.
Here is my little guy standing next to his chart! You can see the Good Night, Sleep Tight wall chart next to it.  We were using this with big brother because he was getting out of bed.  You can read about that HERE on the blog.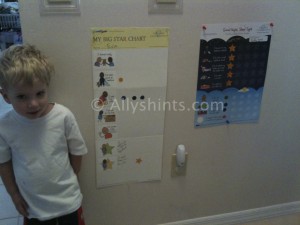 Here is a description of the chart from amazon.com
A large reward chart and to encourage positive behavior, achievement and development in children from 1 year.
Ideal for behavioral issues associated with toddlers, such as potty training, sharing nicely and eating.
Parents can customize charts to the individual need of the child.
Re-usable stickers: 8 activities, 8 blank to customize to your need, 324 reward stickers.
Includes detailed instructions on how to get the best results from your chart, sticky mounting pads for the wall and a dry erase marker
You can also check out The Victoria Chart company on Facebook.  You can usually find a discount coupon on their Facebook page.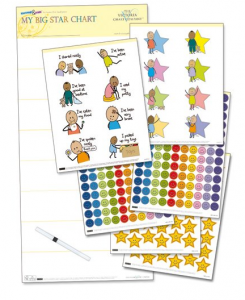 If you would like to enter to win one My Big Star Chart fill in your complete name and working email address in the box below.  Those without a full name and correct email will not be used.  One entry per person. Duplicate entries will be deleted.
You will get a confirmation email saying you have entered and if you win you will be notified at the same email address and have 48 hours to respond back.  The Victoria Chart Company will send the chart directly to you.  Email address will only be used to notify you if you are the winner.
No more submissions accepted at this time.
Giveaway starts now and ends Sunday night at midnight 4/14/13.  One winner will be chosen by using random.org.
*I received one My Big Star Chart to review and give my honest opinion.  The Victoria Chart Company is graciously providing a second chart to giveaway.
WINNER!!! is Amanda Felton and she has 48 hours to return my email and claim her prize.  If no response a new winner will be chosen.