I just love going to the dollar Tree and finding things that I can turn into a nice cheap gift for someone else or for myself.  I found fabric place mats at the Dollar Tree and immediately thought I can do handprints on these.
It wasn't until I asked on my page what do you think I am going to make that I thought of the idea of doing a flag.  Luckily I had gotten red and blue so it would work.  I forget about projects so I am thankful I have friends who remind me of fun things to make.  I was just going to put handprints all over them, which would totally work but I loved the idea of making flags.  I am patriotic and love red, white and blue stuff.
Materials needed:
place mats, acrylic craft paint, foam brush or brush of choice, hand of child.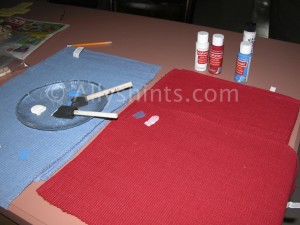 Put the place mat on top of some newspaper in case in leaks through and put your paint on a plate that can be washed off.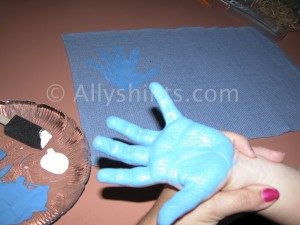 I always paint the hand first and press down firmly after liberally painted.  I tried pressing the hand in the paint and it doesn't do as well for us.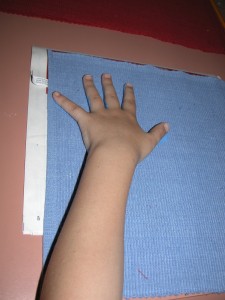 Once you have your handprint you can paint the lines of your flag.  I used a foam paint brush and just made a line across and filled in as much as I wanted.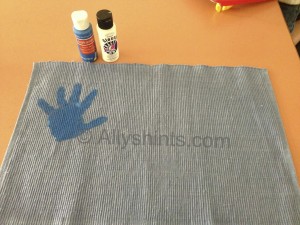 Some people suggested putting stars on the hand but I was afraid I would mess it up or make it look bad.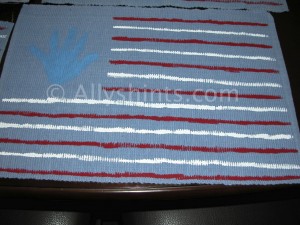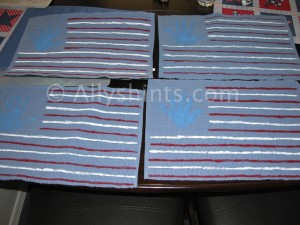 Once it is dry I also added their names and the date on the bottom which is always optional of course. I always like to remember whose hand print it is and the date we did it.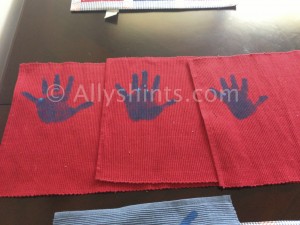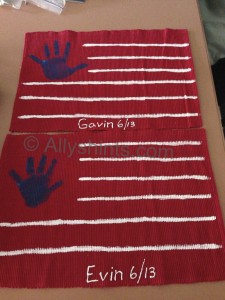 Simple, cheap and makes a great gift too!
What have you made lately with handprints?