Mrs. Kate Carpenter has several CD's of music out but she recently just made her first DVD with some of her music on it.
Songs include Give me a Smile, Colibri (the Hummingbird Song), Habit the Rabbit Loves Manners, I will be Kind, Talk to Nana, The Potty Training Song & Hug-a-Bug-a-Boo.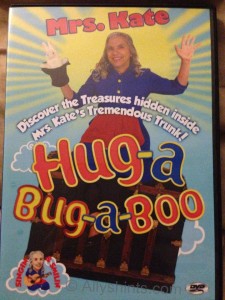 Your kids will love the catchy toons and will start singing them over and over again.  My boys have only watched it twice and are already singing the songs they heard.  Mrs. Kate makes it fun to talk about manners and potty training. The words are on the bottom of the screen too for them to learn the words as they are sung. If you have little ones this is a great DVD to add to your collection. The positive songs will stick with them and teach them right and wrong.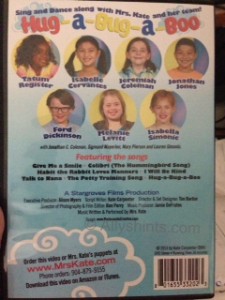 There are several ways to purchase this fun DVD.
You can go to her website http://www.mrskate.com/ and purchase with paypal  there or follow the link on the page and purchase from itunes as well.  All the information is on her website.
I am also giving ONE copy away for FREE!! Visit my FB page Ally's Helpful Hints for Mommies by midnight 9/17/13 and like the picture of the DVD and share it for an extra entry.  One lucky winner will get a free copy!
UPDATE: 9/18/13 The WINNER is Amanda Bear.  I will be in contact for you to claim your prize within 48 hours!  Thanks to everyone who entered and thanks to Mrs. Kate for allowing me to review the video and give one away 🙂