I take care of two little (I call them babies but they are getting bigger now) girls in my home during the week.  The one thing I struggled with was what to get them for a gift for their 1st birthday's.  What do you get a little girl from a babysitter/caregiver besides more toys?  So I started asking around secretly without the moms knowing what I was doing.  They follow my blog and FB page so I couldn't' post a question on their.  Thankfully I have a couple of friends on other pages and they posted the question for me.  I got a couple of fabulous ideas.  They have both had their parties so I can finally post what I did for them.
I got them each a Shutterfly book of a bunch of photos I have taken of them while in my care.  The great thing about having a phone in my pocket is a camera in my hand all day to capture smiles and things they do.  Most days I will text them a video or a picture so they know what is happening and to let them know they are thought of during the day.
I am not going to post a picture of either of the books because it has pictures of them on it on every page!  BUT Shutterfly has amazing deals throughout the year.  and if you have a Pampers account and save points you can use 1,000 of the points and get a free 8×8 book and just pay shipping cost! a GREAT deal.  The 8×8 books are a perfect size and you can customize it anyway you want once you get started.  Very personal gift that mom will love and baby will love later knowing what she did while in the care of someone else when she was small.
I also found a cute little doll for each of them that is personalized just for them.  Again I searched for something cute and little more unique but something if they chose to play with it they could.  This is what I found.  I can't remember the price, sorry.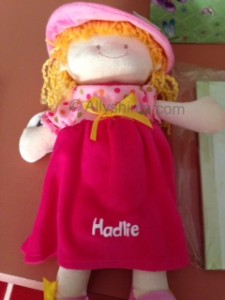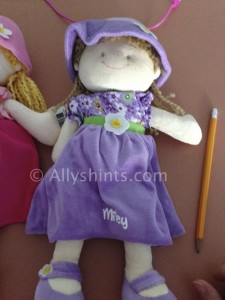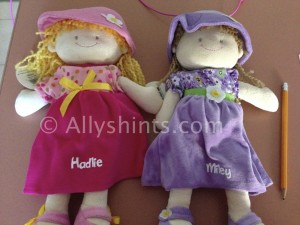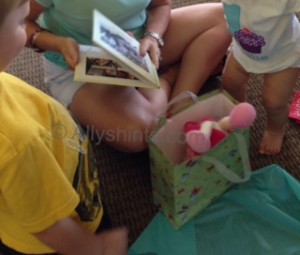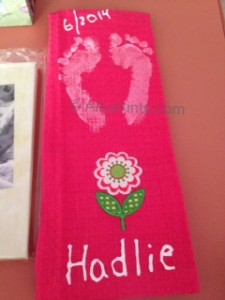 I also put in a footprint dishtowel that we had made around their birthday times just for something a little extra.  Again mainly for mom, but a one year old won't remember that I didn't get them a toy.
How about you? What would you want to get from a babysitter or what have you given in the past?  Would love to hear your ideas!  I think this will be an annual gift for me to give.  I'm sure the mommies won't mind getting the same thing every year.