It has been awhile since I have done a giveaway but one of our wonderful friends here at Ally's Hints emailed me and asked if she could sponsor a giveaway for our readers.  So let me tell you a little bit about the product and then you can enter to win a Norwex Enviro Cloth.
"My name is Shelly, I am a Norwex Independent Consultant.  A big Thank You to Ally for letting me share my passion for healthier cleaning, via her blog and Facebook page.  I have been cleaning homes & businesses for over 10 years.  I am a Mommy to 3 littles & a wife to my wonderful husband.
Because I clean for a living, I was always on the hunt for a healthier way to be able to do this long term.  Not to mention, a safer way for my family.  Then I stumbled on Norwex.  It has been a change for the better in so many ways.
1: It is a natural way to clean.  Most of the time I am just using our antibacterial cloths and H2O.  That's right, WATER!  I am concerned about using chemicals; but I am also concerned about getting rid of germs/bacteria/yucky stuff!! Norwex contains microsilver, and such a fine woven microfiber that it can pick up all the 'business' happening in your home! (Not spread it around like so many cleaners/cloths do.)
2: It constantly impresses me.  When I started, I kept expecting to be disappointed in the results of the product.  It hasn't happened.  I have customers calling to say "Did you know it could do this…?!!"
3: It is not JUST home cleaning.  We offer everyday tools (Laundry & Dish detergent, Kitchen Cloths/towels) and Body Cleaning and Care products (Body Cloths & Makeup Remover Cloths where no soap is needed)!
4: The business aspect: It has also added income to my family, while using products that I love and believe in!!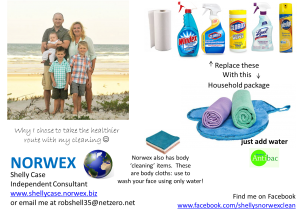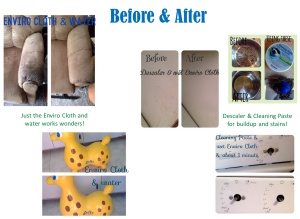 If any of my passion has rubbed off on you, I would love to hear from you.
*If you'd like to get your home off to a healthier CLEAN, find my 'shop' at 
www.shellycase.norwex.biz
*If you would like to join in one of my interactive Facebook parties, or host one of your own, please find my Facebook page at 
www.facebook.com/shellysnorwexclean
*If you are interested in starting your own Norwex business for FREE, please email me at 
robshell35@netzero.net
Shelly has offered up a giveaway item for one lucky person.  Please make sure to enter your Full name and correct email address.  One entry per person.  Winner will be notified by email and have 24 hours to respond to claim the prize.  If no response another winner will be chosen. Giveaway ends midnight on Sunday June 15, 2014.
Winner will receive one Norwex Enviro Cloth.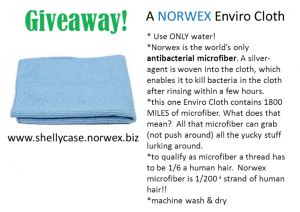 Please fill in the form below to enter.
WINNER IS AUTUMN EATON AND SHE HAS BEEN EMAILED!  CONGRATULATIONS
No more submissions accepted at this time.
I received one free product to try for this giveaway and the words were all Shelly's words used in the post.