Lego storage has become a huge problem with my boys since we started on the Lego journey.  I had high hopes that everything would stay together and they wouldn't take anything apart after we spent hours putting them all together.  Boy was I wrong!!  They stayed together for a little bit and then they slowly broke or were deliberately taken apart.  Once this started happening Lego pieces were everywhere.  I didn't want to deal with it.  I didn't even want to look at it.  I would throw them all in a big box and push it under their table.
Once they started to get more Legos I decided that something needed to be done.  Plus they actually wanted to start rebuilding some things  again and finding pieces is near impossible all in one huge box.
This is what the box looked like!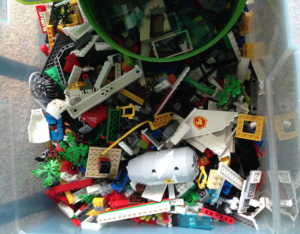 I started investigating pinterest but I don't have funds for a huge set up and a lot of boxes.
I then starting watching the online garage sales on FB and it was like it was meant to be! A friend from my church posted a storage set that would be perfect for right now.
$15.00 later and we have a nice little set up to sort Lego's by color. It was missing a box so I found two shoe box size bins at the dollar Tree since then and they fit perfectly.
Thankful for how things work out.
How do you store your Legos?