So thankful for the salvation of my son Evin!  I like to write about what happened so we can remember forever that day and the happenings of the week.
The week started out pretty good with just a minor leak in our refrigerator that we were able to stop.  We determined that the frig does need to be replaced though since it is several years old and rusting out.  We started looking for a new frig and since I didn't have to work on Monday due to sickness we decided to go shopping for one.  We got an awesome deal and felt really great about it.  I was glad to have taken the steps before an emergency situation came up.  By the way July 4th week is a GREAT week to buy appliances other than black friday it is the best time.
Tuesday night I noticed water on the floor by the water heater!  I had a bad feeling about it and my feelings were confirmed that night when we finally were able to find the leak which was slowly dripping down the side of the water heater.  I put in a call to our home warranty company to schedule an appointment the next day.  It took my most of the day to get the appointment scheduled after several calls back and forth they finally came first things Thursday to look at it.  It was definitely leaking water all up on the inside of it.  It needed to be replaced the next day! ugh
After they left regarding the water heater I was in the playroom playing with the little girl I care for and my son Evin was in there playing as well.  He was kind of talking to himself about Jesus and love.  I started asking him some questions again about Jesus and heaven.  Next thing I know daddy and I are on the floor talking to him and he asked if he could pray to Jesus to come into his life.  BEST FEELING EVER!!
Together my boy and I, with daddy sitting with us, all prayed together and he told Jesus he was a sinner and they he believed he died for him on the cross for his sins.  He asked Jesus to come into his life and be with him forever!  and of course I immediately started crying.  It was a really special moment.
Evin was all smiles all day long!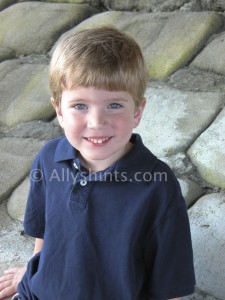 After all the horrible house things going wrong it was a such an awesome event have happen. I was on cloud nine all day in between scheduling another appointment for our water heater the next day!
God is so awesome and I am thankful that now both of my boys have Jesus in their lives!