Ever since it opened up I couldn't wait to take my boys to "That One Fun Place" it just looked like so much fun with all the big slides and obstacle courses to play on.  Yesterday I dropped everything and I took my boys for a couple of hours right when they first opened.  Here is a little bit about our experience and about the place.
We got there right at 10:00 and we were the only ones there for a few minutes.  My boys tried everything out before anyone else showed up.  First off when you get there you need to pay of course.  But if you haven't signed the waiver online before you get there you will have to take a minute to do it.  Since I had signed it beforehand I paid and they gave us our wristbands, made sure we all had socks and we were off to play in a matter of minutes.
The staff was super nice and attentive to show the boys how to do something or make sure they were walking and not running.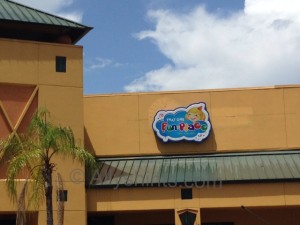 This is a picture of the front of the building by Publix but if you park around the back of the building you have more parking options and don't have to worry about Publix shoppers.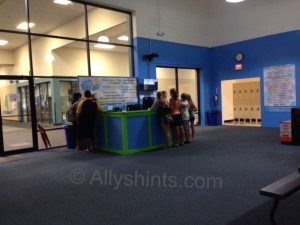 This is the front desk (door to come is to the left) This will be your first stop as you come in.  Pay and get your wristband and you are almost ready to play.  If you look in the back they do have lockers that you can rent to put your items in if you want.  To the right in the picture is the toddler area with seating all around.  In the back hallway is the party room(s), restroom and drinking fountain.  They also have bottled water for sale at the front desk.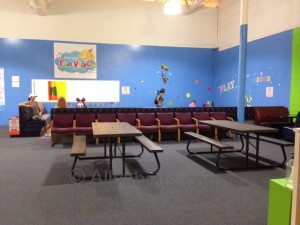 Toddler area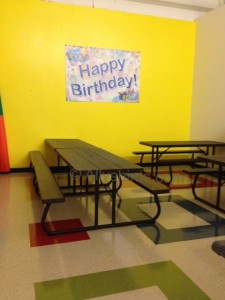 Party room
You can book parties online and have 45 minutes of play time and then the party room for a few minutes to eat pizza and have cake.  One thing to keep in mind is one of the rules is that you cannot go back to play after eating at the party so plan accordingly or have the kids come earlier to the party if they want more play time.  I agree that jumping and a stomach full of cake and food is not a good mix and could cause problems.  Click HERE for party information.
Somehow I missed getting a picture of the shoe cubby's but there are places right as you walk in to leave your shoes and put your socks on.  Everyone MUST have socks in order to play.  If you forgot them they do sell them at the front desk.  Everyone wearing socks keeps the place cleaner.
Here are a bunch of the slides and things to play on.  They have five big things to play on and then a cannonball air blaster and also zero gravity ball throwing.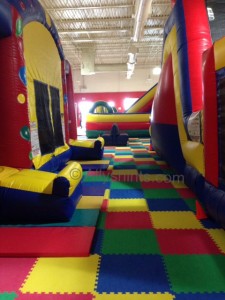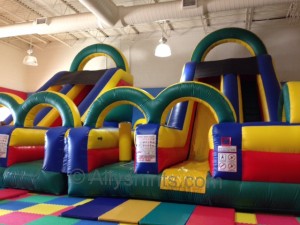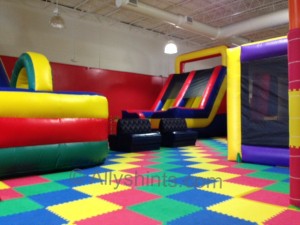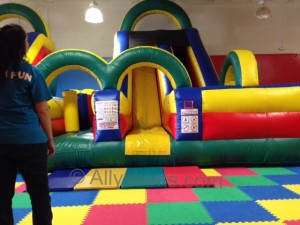 My boys were red faced and sweaty by the time we were ready to go and they both had made friends to play with while they were there.  We weren't back out to the car yet and they were begging to go back.  It is just good clean fun.  Even when more kids and adults showed up it still wasn't crowded because the areas are so big and plenty of things for everyone to do and not have to wait to play on anything!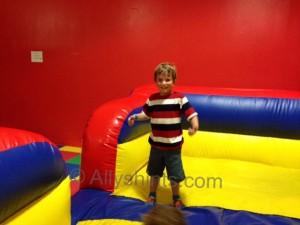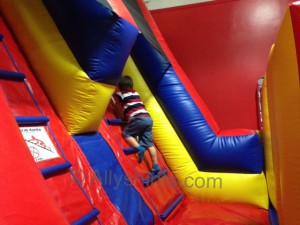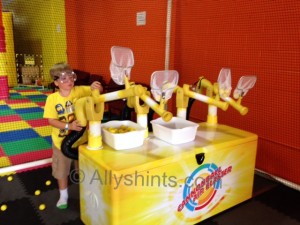 So go visit "That One Fun Place"  tell them that Ally sent you from Ally's Helpful Hints and have a blast.
Make sure to check out their FB page and website.  Their website has hours and cost depending on what time you go.  My family being a homeschool family we can take advantage of the low rates during the day while all the other kiddos are in school.
Thank you "That One Fun Place" for a great time!! We will be back.