Yet another great idea for a grandma or grandpa.  You all know that I am all for inexpensive, easy and something meaningful for those we love.  I was having a hard time coming up with a gift idea for grammy Stanton this year and yet another friend gave me an idea to try.  I made a handprint wreath and printed a poem for the inside of it!
What you will need:
Kids handprint cut out as a pattern to cut out lots of handprints, construction paper various colors, scissors, tape.
(optional) frame to frame it when completed.
Here is how I did it:
I started by cutting out patterns of the hands from both of my sons. One was a lot smaller than the other since he was a baby and the other a toddler.  After I cut out the pattern I traced a bunch of them on various colors of construction paper/craft paper.  You can use any color you want.  I then took four pieces of regular sized paper and taped them together to make one big page.  After that I typed up the poem I used and taped it in the middle of the page. Then I placed my first layer of hands on the page.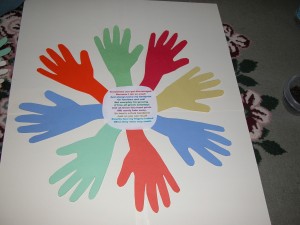 I placed the first layer down and spaced them out well before I taped them down in case I needed to move them around a little bit.  From there I kept adding more hands on to fill in the gaps of white.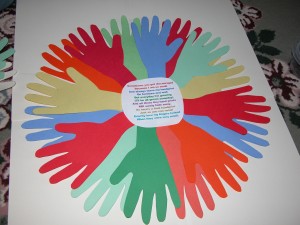 I filled in all the white with the big hands first.  Once I had it filled in the way I wanted I then added the small hands on top of those.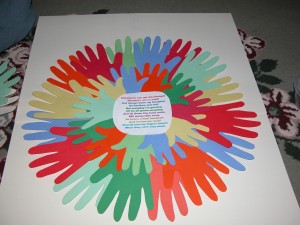 I only added one layer of the small hands and just spaced them really close together to make it look good.  Then it was finished!!
I found a cheap frame at Michael's for under $10.00 on sale and framed it so grammy could put it on the wall.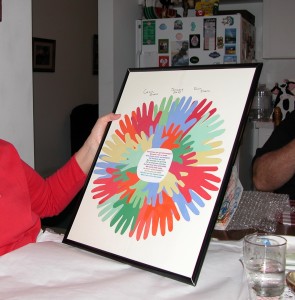 This was after she unwrapped it ready to hang in the frame for her!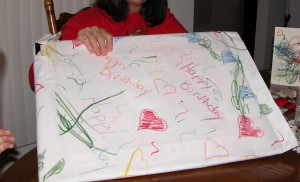 We wrapped it up for grammy in our special homemade wrapping paper.  Grammy loved her gift and it hangs on the wall where we can see it every time we go and visit!  Another great idea for Christmas would be to do it all in green and add holly berries around it too!  That would be very cute.  Have you ever done a wreath with handprints?  What color did you do?
Here is the poem I used:
Sometimes you get discouraged  because I am so small
And always leave my handprint on furniture and wall
But every day I'm growing (I'll be all grown up someday)
And all those tiny hand prints will surely fade away
So here's a final handprint just so you can recall
Exactly how my fingers looked when they were very small