If your kids like bananas then you need to make this frozen banana treat for a hot summer day or as a fun dessert for dinner.  Note though that you need to allow extra time for them to freeze.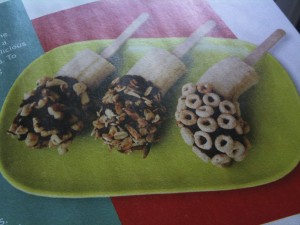 I found this recipe in Family Fun Magazine.
Frozen Bananas – 3 bananas, 6 ice cream sticks, 2 chocolate bars, 1 tbsp. chopped nuts, crispy rice cereal, granola, or shredded coconut (optional)
Peel the bananas and remove any stringy fibers. Cut the bananas in half, widthwise, and push an ice-cream stick through the cut end of each half. Cover them in plastic wrap and freeze for about three hours.
Place the chocolate bars in a microwave-proof bowl and cook on high for about 2 minutes, or until the chocolate melts. Check after one minute. Stir in the nuts, cereal, or coconut.
Using a butter knife, spread the chocolate mixture over the frozen bananas to coat them completely. Rest the pops on a plate covered with waxed paper and freeze until ready to serve. Makes 6 pops.
Related posts: