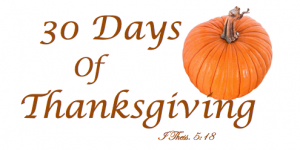 Today November 30, 2011 I am thankful for my Lord and Savior Jesus Christ. I am thankful that since I believe in Him and that He died for me on the cross that I will spend eternity with Him in Heaven.  I am thankful for the love God shows me every day no matter what I do. thankful He forgives me when I do wrong over an over again.  Thank you Jesus for who you are.
Thank you Lord for who you are and your gift of salvation to all who believe in you.  "Believe on the Lord Jesus Christ and though shalt be saved" Act 16:31

Thank you for those that have participated every day and have given thanks along with me.  So encouraging to give thanks and thank God for all that he had given us big and small.  Thank you friends and Ally's Helpful Hints friends for being here with me on this journey.



Related posts: