I have had these red metal buckets since I got married seven years ago.  I used them to put candy canes in them to pass out to our guests at our reception.  Worked great at the time but they have sat in two closets over the past few years collecting dust.  I had no idea what to use them for and just couldn't throw them out!  When cleaning up things and packing to move I decided it was time to part with them.
Before getting rid of all eight of them I took two for my boys (since they were playing with them) and decided to personalize them and they could use them for crayons and pencils or whatever else they want to us them for.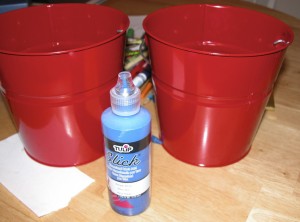 This is the buckets before! I used puff paint to write their names on each of them and let it dry over night on their sides in case it happened to run at all.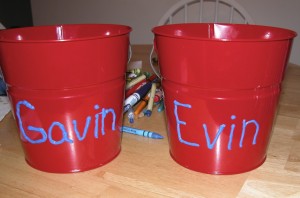 This is what they looked like after.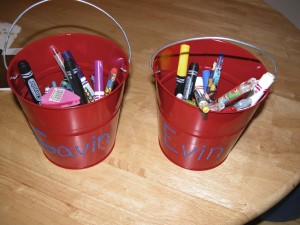 My four year old has decided to put pencils and crayons in them and has been carrying them around all morning!
What quick craft have you don't lately? Decorated any buckets?
Related posts: