Saw this idea on Facebook that someone had posted and thought it would be a fun thing to do and explain the story of Easter to my boys.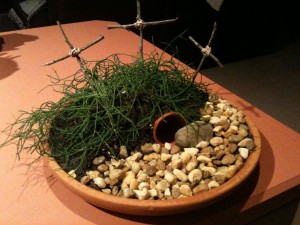 Here is what you need:
Terracotta (or whatever you choose) plant saucer
Potting soil
small pot
grass seed or plant that looks like grass
small twigs for crosses
rubberbands
rocks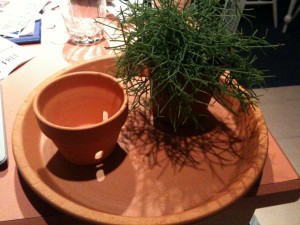 Here is what I did:
I rounded up some dirt from our yard around the small planter (The one in the photo was to big so I found a tiny one at Walmart that worked better) to make it look like a hill and then added an exotic plant from Lowe's that looks a little bit like grass. I added in any more dirt to fill in to make it look like a small hill over the tomb. I was going to follow the original instructions that said to plant grass seed and allow 7-10 days for it to grow but you can't just buy a small amount of seed to plant.  I opted to pay for a plant that looks just as good and I don't have to worry about it growing.  This is also an option if you wanted to do it at the last minute for Easter!
After getting the plant in it looked like this.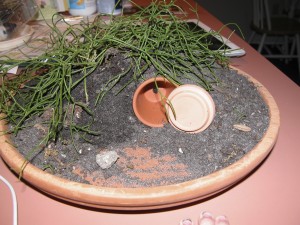 I then added some rocks and found a bigger rock for the tomb door.  I found some small sticks and took the rubber bands and made crosses and stuck them in the dirt!
Very easy project and a great illustration for little kids or would make a nice center piece for an Easter dinner.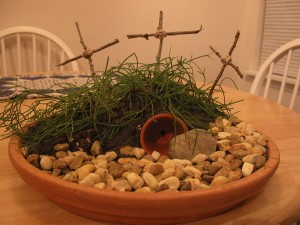 Not sure what I am going to do with it after Easter.  Maybe I will set it on our front porch.
Related posts: