Excited to have my first ever guest blog post here at Ally's Hints!  It has been a joy to get to know Jill from Blessed Beyond a Doubt and read her encouraging posts on her blog.   Make sure to welcome Jill today with a comment and go check out her blog and also her Facebook page.  Thanks Jill for taking the time to tell us how you homeschool your kindergartner on a budget.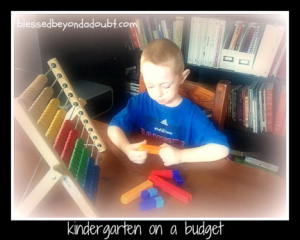 Kindergarten is a joy for me to teach.  I have the blessing of teaching my 5th son Kindergarten this coming school year and I am not sure who is more excited…him or me!
One thing I have learned is that you can homeschool successfully on a tight budget, especially Kindergarten and the younger years.  I believe you can train and teach your kindergartner for almost FREE.
The only item that I recommend you spend your hard earned money on is a strong phonics program.  The rest of the items you can find at home, on-line, or at the library.
This is what our kindergarten looks like in our home:
Math – we use a variety of manipulatives for counting, sorting, adding, subtraction, etc.  We talk about the calendar and chart the weather on a printable graph each day.I do not require my children to write out numbers in Kindergarten.  All mathematical lessons are both hands on and orally. We also read a lot of living math books.  We have collected many over the years, but the library has many different math topics to choose from.  We play countless, fun games, such as Chutes and Ladders, War, and other games that help with number recognition.  We talk about math in everyday situations.  We might count how many people are in front of us at the grocery store.  Learning to count to 100 is introduced, too.
Handwriting – there are so many free handwriting sites on the web.  I usually have my child learn their first, middle, and last name.  We practice each letter as we learn the sounds in our phonics program.  I make them recite the letter sound as they are writing the specific letter.
Read, Read, Read– we usually pick a topic per week and go to the library and get as many books as we can on that subject. We have a book basket that we put all of our topical books into and place in our living room. One week it might be apples and the next clouds.  Ask your child what they want to learn.  I also read a loud to them fiction, poems, and anything that peeks their interest.  This is where a majority of learning takes place.
Nature Notebooking – we try to go on a nature walk at least once a week and learn about something new that we discover on our adventure.  We come home and read a book or learn about our find on the internet.  I always have my children draw their discovery and we add to our notebooks year after year.  Soon they will start discovering God's creations on their own and add more writing to their pages as they mature.  We add to our notebooks year after year.
Arts and Crafts – I usually look online for an arts and craft project relating to the topic we are studying.  The internet is swarming with creative ideas using simple items from your staples.  I buy all our school supplies for the year during the back to school sale.
Bible – we do bible as a family.  We have one memory verse to learn per week and usually study one book of the bible at a time.  We are currently working through the Old Testament together.  We listen to a dramatized audio bible.
PE/Music – my children are involved in Awana and Sunday School where they sing and play group games, so I do not really do much in this area.  Of course, we have children cd's that we play occasionally.
We are also involved in a homeschool group that offers field trips and social gatherings.
During the kindergartener years, my goal is to teach them to love to learn.
Let them play and discover God's creation while being a child.  It's amazing to me how much my children learn from just playing outside observing an ant pile.  Everyday is a learning adventure at our house.
Kindergarten is one of the most enjoyable years to teach, so enjoy your children during this season.  And take advantage of the everyday resources that are available to you for FREE.

 I am a simple homeschool mama to 6 blessings enjoying the pleasures of faith, family, and being home.  I write at  Blessed Beyond a Doubt where I offer encouragement to mothers living on a strict budget. I look forward to sharing the joy of motherhood with you.  Giving Him all the glory!
Related posts: