I was excited to be contacted by Spark of Amber to offer all my friends another giveaway.  I am very thankful for this opportunity and the great bracelet I was able to review.  It is comfortable and I just love the colors of the one I got.  It goes well with most anything and I feel comfortable wearing it all day.  I have never had an Amber necklace or bracelet before so I was happy to try one out. I have always heard such great things about them.  I have had mine for two weeks and have no complaints about it.  I do have to admit I had to get used to wearing a bracelet again after not wearing one for so long but it didn't bother me at all.  This is the bracelet I got "the Seashore" bracelet.  I have always heard great things about Amber bracelets and necklaces and it has been fun trying one out.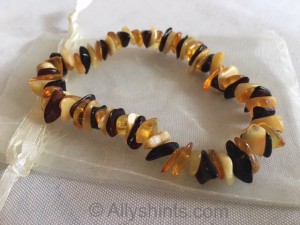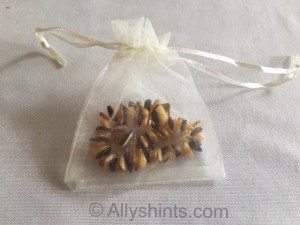 It comes in a cute little pouch and all protected in bubble wrap so it comes with no damage to the item.
Here a couple of things that Spark of Amber tell you about their product. Baltic Amber is a beautiful fossilized resin.  The 100% natural healing oils of the Baltic Amber are said to relieve pain, provide calming during stressful times, alleviate teething discomfort and relieve inflammation in the throat, ear and stomach.
It is recommended that you don't wear it to bed or in the water.
They have a huge selection of products to choose from and a wide range of sizes for babies up through adult.  Make sure you check out their website and see what they have.  So many great colors and styles to match your personality.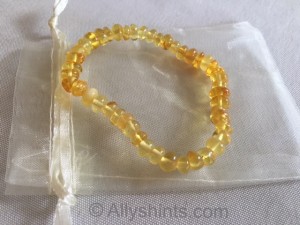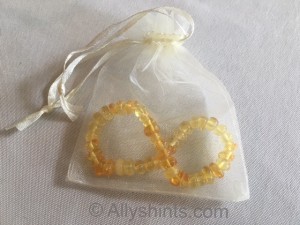 Here are several ways to follow Spark of Amber and see what they are about.
Website to order – http://www.sparkofamber.com
Facebook – https://www.facebook.com/SparkOfAmber/?fref=ts
Twitter – https://twitter.com/SparkofAmber
Pinterest – https://www.pinterest.com/sparkofamber/
I'm excited to give away the yellow "sunrise" bracelet.  It is a newer rounded style beaded bracelet that I am sure you will love.  The color of this is so pretty and the rounded beads will make it even more comfortable to wear.  I love how all the beads are just a little different.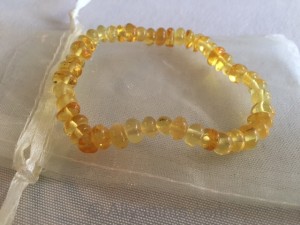 There are a couple of ways to enter.
1. Fill out the form below with your name and email address
2. comment on my Facbook post regarding the giveaway
3. Share this post on Facebook or Twitter or any other social outlet for another entry and tell me that you did in a comment on Facebook.
Giveaway ends midnight on Mother's Day May 8, 2016.
No more submissions accepted at this time.
One winner will be drawn randomly and notified by email or FB message that they have won and have 24 hours to respond or another winner will be chosen.  US residents only please.
I received a free bracelet for my own opinion of Spark of Amber and a bracelet to give away to one winner.  Opinion is all my own. Thanks again to Spark of Amber for this opportunity to share their product with you great friends.