I admit I didn't come up with this idea on my own I saw it on pinterest and thought it was a cute and inexpensive gift idea for a grandpa and daddy for Father's day!
Here is what you need:
Hands to trace
paper color of your choice
pen/pencil
scissors
tape
frame if you choose to frame it
I started out by making a template of each each persons handprint so it was easy to trace a couple of times.  A heavier card stock is easier to trace several times.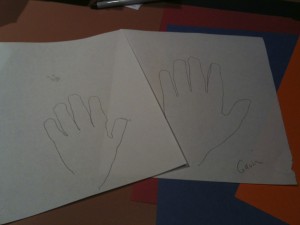 After tracing I traced the handprints onto the color paper of my choice and I did this turning the handprint backwards from what I want it to be.  In my picture the thumb is to the right and I traced it with the thumb pointing left.  I did this so any pen or pencil marks that are not cut off when cutting do not show up on the front of the handprint.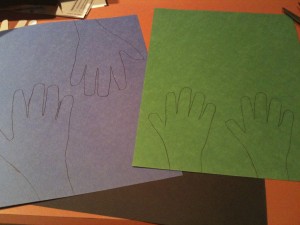 Cut out all the handprints and then arrange how you like them.  If you use a thick paper you could glue if you want. I just taped them down where I wanted them.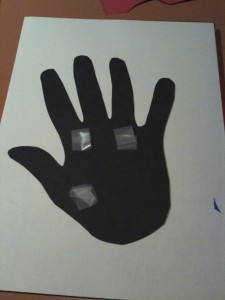 After they were all in place I chose to add our names with the color of the marker corresponding to the color paper and then the date! Our finished product (minus a frame)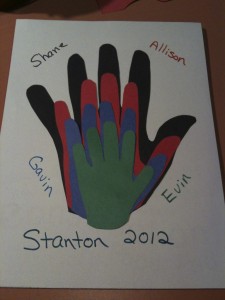 I plan to give on to a grandpa close by and then hang one in our house since I love it so much.  Cheap frames for framing can be found at walmart or any other discount store!
What are YOU making or doing for Father's Day?
Related posts: