This was super easy to do with the little girls I care for.  I wanted to do something for the daddy's in their life even though I see and talk to the mom's more than the dad's I didn't want to leave them out. Supplies: colored paper of choice I used a thicker card stock paper, paint (I use acrylic craft paint), foam brush, frame.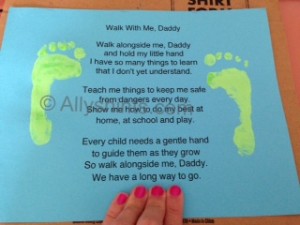 I first printed the poem on the paper.  I have a laser printer and it does well with card stock paper.  I decided to print the poem in the middle and put the footprints on the side.  I didn't want to cover up the writing. Here is the poem that is on it
Walk with Me Daddy
Walk alongside me, Daddy
and hold my little hand
I have so many things to learn
that I don't yet understand.
Teach me things to keep me safe
from dangers every day
show me how to do my best at
home, at school and play.
Every child needs a gentle hand
to guide them as they grow
So walk alongside me, Daddy.
We have a long way to go.
  I was trying to find a basic wooden frame that I could paint and decorate a little bit but ran out of time looking at places for one and found a basic certificate frame (it had to be 8 1/2 x 11 in order to fit the paper) and they were just $4.00 at walmart.  Remember that no one cares how much you spend it is the thought you put into it.
I took a piece of cardboard and taped the paper down on top of it.  I sat the baby in the high chair and painted their foot first and then pressed down on the paper.  It dries fast and then you just place it in the frame and you are done! Here are both of them.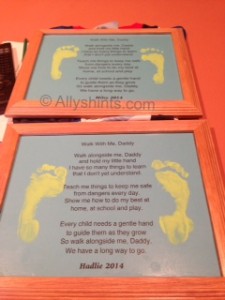 What fun thing have you made with footprints lately?