It is amazing how much my five year old has accomplished in just two weeks of school at home.  He writes his name at least two times a day and he is already showing great improvement in his writing.  This is where I thought he was behind but in just two weeks he is writing really well.  There are some letters and numbers that need improvement but I know that will come as we go along and practice.
Here is what he wrote today just after two weeks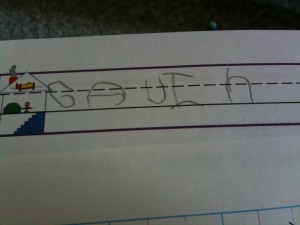 So proud of my boy!
How is school going for you and your little ones, whether they are in public school or home school?
Related posts: